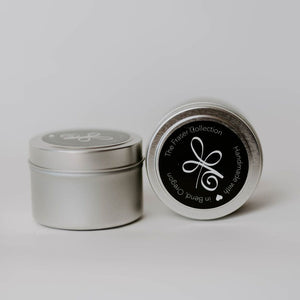 The travel tin 4oz candle perfect size for travel, stocking stuffers or just want to try a scent. They come in all of our scents.
Apple Spice - has the subtle smell of warm apples and a little cinnamon spice is perfect for the cooler days of fall
Citrus Fusion - is a combination of orange, grapefruit and lemon. A fresh scent you will want in every room.
Desert Lavender - a mixture of lavender, rosemary and sage. Perfect for relaxation.

Fraser Fir - this is our signature scent. Has the aroma of the fir tree, cedar  and an undertone of amber.
Eucalyptus and Peppermint - is a fresh spa like scent with sweet peppermint and earthy eucalyptus. 
Fresh Fig - one of our best sellers, hint of citrus and an undertone of patchouli.
Honeysuckle - a powerful aroma of the beautiful honeysuckle and jasmine plants.
Ocean Flowers - sea salt highlights with an added note of jasmine, lily of the valley and tonka bean.
Pomegranate - has an amazing mix of red fruits, citrus and hint of cedar.
Pumpkin Spice is the perfect scent for a cozy autumn evening. It has a blend of cinnamon, nutmeg, clove and toasted pumpkin.
Rose - a beautiful delicate scent of the wild rose.
White Gardenia - a combination of gardenia, lemon and hint of jasmine.
Wild Country Flowers - a subtle floral fragrance combining lily of the valley, lily, jasmine and rose.
Fraser Collection candles are clean in burn, make and look. All of our candles are made from plant based wax, cotton wicks and clean fragrances. Our candles are phthalate free and never tested on animals.
The travel tin will burn for approximately 25 hours.