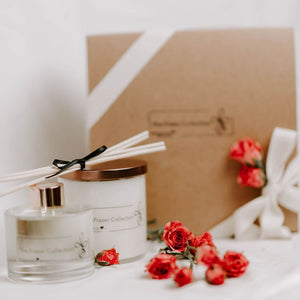 The Fragrance Lovers Gift Set includes an 8oz soy candle and a reed diffuser in the scent of your choice.
The 8oz soy candle will burn for approximately 50 hours, and the reed diffuser will last for 5-6 months.
Black Plum - the scent has a rich fragrant bouquet of black plums, hint of citrus and an undertone of amber and freesia.
Citrus Fusion - is a combination of orange, grapefruit and lemon. A fresh scent you will want in every room.
Desert Lavender - a mixture of lavender, rosemary and sage. Perfect for relaxation.

Eucalyptus and Peppermint - is a fresh spa like scent with sweet peppermint and earthy eucalyptus. 
Fraser Fir - this is our signature scent. Has the aroma of the fir tree, cedar  and an undertone of amber.
Fresh Fig - one of our best sellers, hint of citrus and an undertone of patchouli.
Grapefruit Fir  - a combination of grapefruit and the fir, a clean scent with a hint of fir.
Pomegranate has an amazing mix of red fruits, citrus and hint of cedar.
Ocean Flowers - sea salt highlights with an added note of jasmine, lily of the valley and tonka bean.
White Gardenia - a combination of gardenia, lemon and hint of jasmine.